Wishbone Gold PLC - Drilling update for Cottesloe Project
---
Announcement provided by
Wishbone Gold Plc · WSBN
18/09/2023 07:00
Wishbone Gold PLC - Drilling update for Cottesloe Project
<![CDATA[
RNS Number : 7429M
Wishbone Gold PLC
18 September 2023
This announcement contains inside information for the purposes of Article 7 of the Market Abuse Regulation (EU) 596/2014 as it forms part of UK domestic law by virtue of the European Union (Withdrawal) Act 2018 ("MAR"), and is disclosed in accordance with the Company's obligations under Article 17 of MAR
18th September 2023
Wishbone Gold Plc
("Wishbone" or the "Company")
Wishbone Gold Plc / Index: AIM: WSBN / Sector: Natural Resources / AQSE: WSBN
Drilling update for Cottesloe Project
Confirmation of Sediment Hosted Base Metal Mineralised System
Wishbone Gold Plc (AIM: WSBN, AQSE: WSBN), is pleased to announce an update on the findings of the first phase of the drilling program comprising five reverse circulation holes which has taken place at Cottesloe in recent weeks. The drill results reinforce those announced by the company in May, namely that Cottesloe has significant mineralisation potential and is considered highly prospective for precious and base metals.
The Cottesloe Project is located around 55 km south of Newcrest Mining's Telfer Gold Mine and about 35 km south-east of Wishbone's Red Setter Project in the Paterson Range province of Western Australia.
Richard Poulden, Wishbone Gold's Chairman, commented: "It is great news to have the first stage of the drilling program completed at Cottesloe which has highlighted again the significant mineralisation potential of this asset. The imminent diamond drilling work, part funded by the Western Australian Government, should also reveal the scale of Cottesloe and the merit of the exploration model."
Highlights from the Program:
·    Basin stratigraphy has been confirmed to be highly suitable for sediment hosted base metal mineralisation similar to that at nearby Cyprium Metals Nifty (Cu) and Maroochydore (Cu-Co) mines and also the Mt Isa style (Zn-Pb-Ag) deposits.
·     Large sulphidic and pyritic shale zones encountered with widths over 70m
·     Initial onsite XRF  (X-ray fluorescence spectroscopy) results show elevated Cu (copper), Pb (lead), Zn (zinc), Co (cobalt), Ni (nickel), K (potassium), V (vanadium), Ti (titanium) present in RC drill chips
·    Highly encouraging thick sulphide zone in hole 23CTRC0001 confirms the architecture and target zones are consistent with the exploration model
·     Reverse Circulation ("RC") pre-collar drilling program has been successfully completed with the aim of:
o establishing water bores for diamond drilling; and
o testing the upper parts of the geological model using RC
·     Diamond drilling to start in the coming weeks and costs are to be 50% funded by the WA Government's EIS scheme up to a total of $220,000 of direct drilling costs. 
·     Nifty mineralisation style is being targeted at Cottesloe. Nifty has produced more than 700Kt of copper metal with a further 940Kt in resource
Comments on Reverse Circulation pre-collar drilling at Cottesloe:
Two holes (23CTRC001 and 23CTRC005) reached target zones with pyritic black shales intersected in both holes. 23CTRC001 intersected pyrite over a wide zone from 72-148m with the zone from 112-121 metres showing the strongest sulphide zone.  23CTRC005 intersected pyritic shales towards the base of the weathered zone (89-90m) within ferruginous clays that may be weathered pyritic shales from 65m.  There was also stronger pyrite within black shales from 124-145m, with disseminated pyrite throughout the hole. Drill chips have been sent to the lab for analysis with results due in 6-8 weeks.
The pyrite varies from disseminated spot occurrences to  semi massive zones within black shales.  This unit is a primary target and it is hoped that the assaying on these samples will provide a vector to the most strongly mineralised zones within this highly prospective basin.  This unit may also be a corollary to the Pyrite marker bed seen in the hanging wall to the Nifty mineralisation. 
The information gained to date is highly encouraging, confirming the overall exploration model for a major sediment hosted system.
Figure 1: Sulphidic material from 23CTRC0001 -128m
Figure 2: Cottesloe Project Summary
Figure 3: Plan view of th4e Cottesloe syncline showing current drilling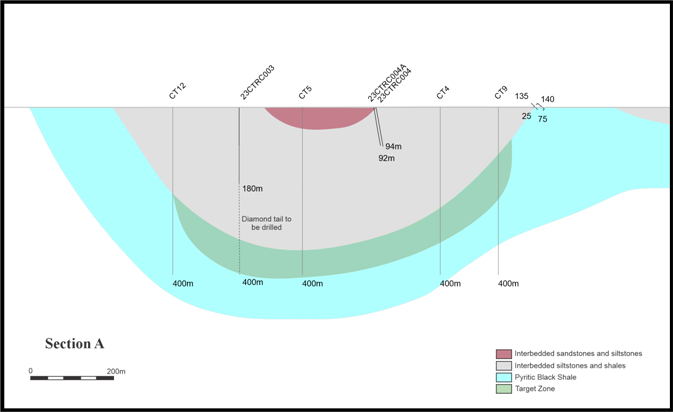 Figure 4: Section A with interpreted geology on section
Figure 5: Section B with interpreted geology -thick pyritic zone intersected in 23CTRC0001
Figure 6: Section C showing new Drilling through historical Zn/Co Anomalies
For more information on Wishbone, please visit the Company's website.
END
Technical Glossary
Pyrite shales - Pyrite is the most common of sulfide minerals and is widespread in igneous, metamorphic, and sedimentary rocks. https://www.atlantictesting.com/expansive-pyritic-shale-a-geotechnical-concern-2/
Black Shales - also called Carboniferous Shale, variety of shale that contains abundant organic matter, pyrite, and sometimes carbonate nodules or layers and, in some locations, concentrations of copper, nickel, uranium, and vanadium
For further information, please contact:
 

Beaumont Cornish Limited




(Nominated Adviser and AQUIS Exchange Corporate Adviser)




Roland Cornish/Rosalind Hill Abrahams

Tel: +44 20 7628 3396













SP Angel Corporate Finance LLP




(Broker)




Ewan Leggat / Kasia Brzozowska

Tel: +44 20 3470 0470







J&H Communications Ltd




(Financial PR)




George Hudson

Tel: +44 (0)7803 603130
 

Competent Persons Statement

 

The information in this report that relates to the reporting of exploration results has been compiled by Mr David Jenkins, a full time employee of Terra Search Pty Ltd, geological consultants employed by Wishbone Gold PLC.  Mr Jenkins is a Member of the Australian Institute of Geoscientists and has sufficient experience in the style of mineralisation and type of deposit under consideration and the activity which they are undertaking to qualify as Competent Persons as defined in the 2012 Edition of the Australasian Code for Reporting of Exploration Results, Minerals Resources and Ore Reserves ("JORC Code"). Mr Jenkins consents to the inclusion in the report of the matters based on the information in the form and context in which it appears.

This information is provided by RNS, the news service of the London Stock Exchange. RNS is approved by the Financial Conduct Authority to act as a Primary Information Provider in the

United Kingdom

. Terms and conditions relating to the use and distribution of this information may apply. For further information, please contact

rns@lseg.com

or visit

www.rns.com

.

RNS may use your IP address to confirm compliance with the terms and conditions, to analyse how you engage with the information contained in this communication, and to share such analysis on an anonymised basis with others as part of our commercial services. For further information about how RNS and the London Stock Exchange use the personal data you provide us, please see our

Privacy Policy

.

 

END

 

 

UPDFIFVEAFITLIV ]]>