The Aquis Exchange MaC: A case for opening up the close
The start of 2020 has sparked a flurry of memories of how things have changed over the past decade or two. The days when national markets were the norm, and 'Monopoly' wasn't just a board game but a descriptor of European National exchanges, are consigned to the records of the 'noughties'.
Twelve years since the advent of competition in European equities, one major component of trading remains resistant to change. Presently, some 20% of on-order book equities trading in Europe takes place in the closing auctions. For some markets this is closer to 25-30%.
Unfortunately for traders and investors, the closing auctions are still monopoly territory. With seemingly no choice but to send their closing orders to those markets of listing, investors are still being stung on many exchanges with the basis point equivalent of landing on Park Lane and Mayfair, complete with hotels.
Change for the sake of change isn't the end goal, but choice and competition that improve the status quo certainly are. In the Aquis Exchange Market at Close (MaC) service, 2019 finally proved to be a turning point for competition in the close.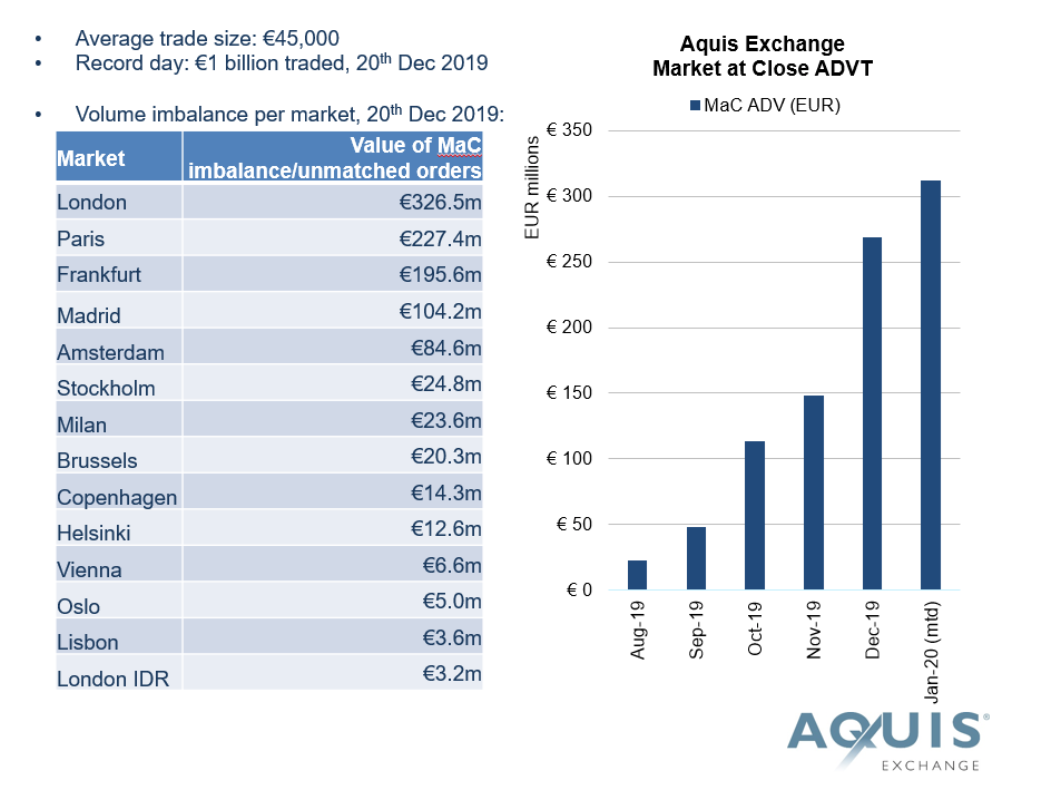 Since its first users going live in 2019, the MaC has seen rapid month-on-month growth, with a twelve-fold increase in average daily value traded between August and December 2019. The volume of 'imbalanced' liquidity in the MaC is even higher than this, averaging an extra half a billion Euros of additional liquidity with which firms could be matching their orders. This illustrates that the MaC is genuinely being used for multilateral trading and provides significant opportunities for liquidity seeking in addition to the market of listing auctions.
With the MaC, members of Aquis Exchange can trade at the same closing price as the market of listing closing auction, for a fraction of the cost. An average daily value of as little as £20 million per day would recoup the monthly MaC fee and leave the door open for manifold more in cost savings.
Uniquely, there is no opportunity cost to firms' use of the MaC. For each stock, the MaC starts at the same time as the market of listing's closing auction. Confirmation of matches are sent back to the members mid-way through the market of listing auction, allowing sufficient time for any unexecuted quantities to be traded elsewhere.
Most importantly, MaC market data is published in real-time, making it a fully pre- and post-trade transparent service.
To find out more about the Market at Close or if you are ready to take a 'Chance', pass 'Go' and collect a lot more than £200 in savings, contact the Aquis Exchange sales team via sales@aquis.eu
by Sakeena Lalljee